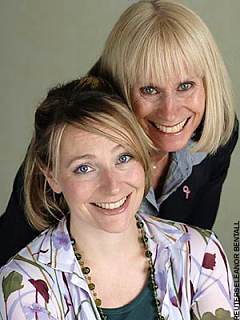 Aisha Bicknell, Rita Tushingham
Click on the above photo for the article from the Daily Telegraph newspaper, 21 Aug 2006, concerning how Rita and her younger daugher Aisha dealt with Aisha's breast cancer.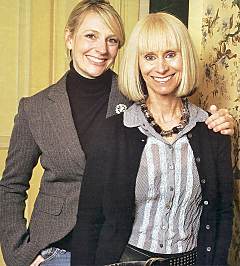 Aisha Bicknell, Rita Tushingham
Aisha says, "I had this 'cold cap' treatment in which they put a frozen neoprene cap on my head during chemotherapy, to slow blood flow to the scalp in an effort to prevent hair loss. It worked – I only lost about half my hair, which has now grown back. But enduring a frozen cap on my head was the worst part of the treatment."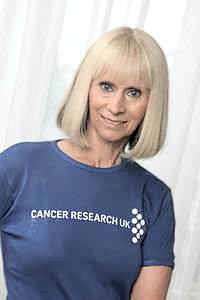 Now that Aisha has finished her cancer treatment, she and Rita are keen to encourage fundraising for cancer research. Rita supports Cancer Research UK's Relay for Life, taking part in media interviews to raise awareness. Relay For Life is a unique event in which teams of friends, colleagues, or family members get together to relay around a track, taking turns to walk the course for the duration of the event (between 12 and 24 hours). 46 Relay For Life events took place across the UK in 2006, with over 8,000 people raising £800,000 for Cancer Research UK's work to help beat cancer.