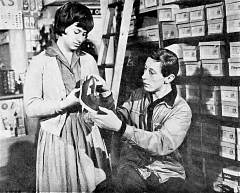 Rita Tushingham, Murray Melvin
New customer Geoffrey buys a pair of Italian casual shoes from Jo.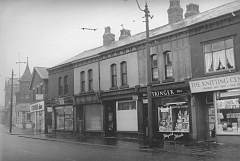 photo courtesy of Manchester Local Image Collection
The stock in Jo's shoe shop is labeled "W Timpson" – a well-known chain of shoe shops in England at the time. A trolley bus seen in the film indicates that the shop was located on one of Manchester's few trolley routes in 1961. Additional geographical features such as alleys and the names of neighboring shops reveal that the filming location was the "W Timpson" shop at 312/314 Ashton New Road (south side of street), Manchester, England. The shop can be seen at the far left in the above photo, taken in 1960. The area has since been redeveloped, and if you were standing in the doorway of the shoe shop, you would see the City Of Manchester Stadium (home of Manchester City Football Club) across the street, on the north side of Ashton New Road. Click for Google map. Our thanks to Geoff Knight for this location info. Photo © Manchester City Council.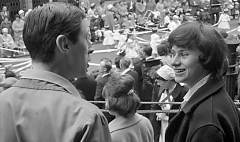 Murray Melvin, Rita Tushingham
While viewing the annual Whit Week Walks, Geoffrey and Jo see each other on the steps of the city art gallery, Mosley Street, Manchester. This scene was filmed as a pick-up shot during an actual Whit Week Walk. Rita wore no jacket that day, so the jacket she is wearing in this scene was borrowed from cameraman Desmond Davis, who was wearing the traditional cameraman's blue blazer. Click for Google map. Our thanks to Geoff Knight for this location info.