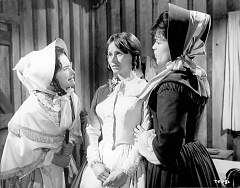 Linda Goranson, Rita Tushingham, Barbara Chilcott
"Did you kill him, Evie? Did you, did you, did you, did you, did you, did you, did you, did you?"
Sarah badgers Eve for details of her months living with La Bęte.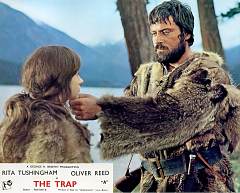 Rita Tushingham, Oliver Reed
Eve makes up her mind where she belongs, and returns to La Bęte.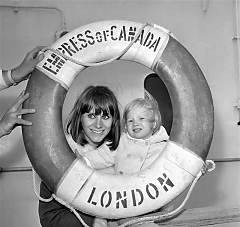 photo courtesy of Rita Tushingham
Rita, her husband Terry, and daughter Dodonna depart for Canada on the Empress Of Canada ocean liner in October 1965 to film The Trap. "We sailed from Liverpool and arrived in Montreal, then flew on to Vancouver with Oliver and his family," says Rita. Press photographer Bob Bird took this photo, which was kindly sent to Rita by Bob's daughter Robin Bird.