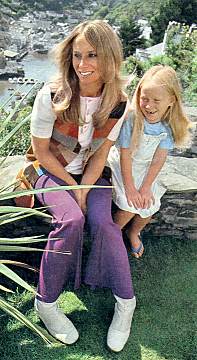 Rita Tushingham, Dodonna Bicknell
Rita and Dodonna sit on the terrace wall overlooking the bay. "One of my favourite games with Dodonna is putting on an old grey wig and pretending to be her great grandma making silly faces and even sillier noises through pretend false teeth."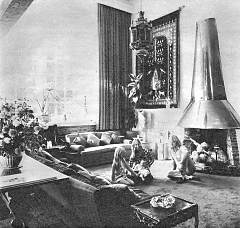 Their Polperro home has a large sitting room with a high ceiling and a tall window overlooking the village. Terry designed the brass canopy over the fireplace.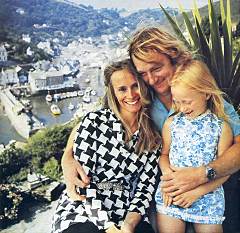 Rita, Terry, and Dodonna on the terrace wall overlooking the bay. Rita is reluctant to go out on the ocean, but she gave Terry a fishing line, and he sails out with Dodonna to catch fish. Dodonna says that she gets seasick but wants to go out and try to get used to it.