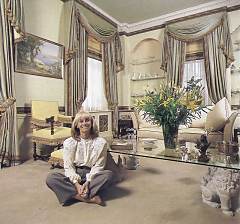 Rita Tushingham
Rita sits in the living room of her new flat. She has an interest in interior decorating, and designed the rooms herself. Her vices are candles and flowers – she's likely to have vases of roses, carnations, and lilies in her flat.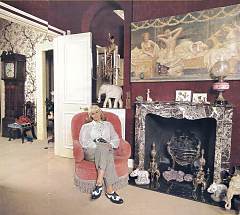 Rita Tushingham
Rita designed the bedroom to be darker and more intense. "I'm an art collector – I have several paintings by Beryl Cook and Elizabeth McWeeney – and I've taken a keen interest in painting. A brilliant young artist in Toronto helped me. I often paint when I'm on location, waiting for a call. I also take a keen interest in interior design, and I recently redesigned the boardroom in one of my husband's offices, in silver and black with columns all around – very dramatic."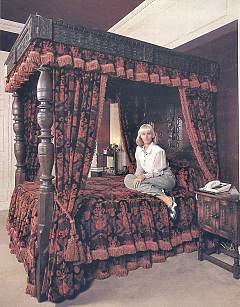 Rita Tushingham
The Elizabethan four-poster bed has been with Rita since she lived in Hertfordshire.