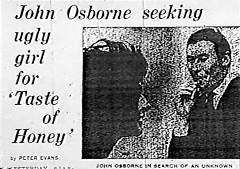 From the Daily Express, 02 Mar 1960
While working at Liverpool Rep, Rita saw an article in the 02 Mar 1960 issue of the Daily Express, titled "John Osborne seeking ugly girl for 'Taste of Honey'", indicating that Shelagh Delaney's stage play, A Taste Of Honey, was going to be made into a film by Woodfall Film Productions Ltd, a company founded by director Tony Richardson and playwright John Osborne.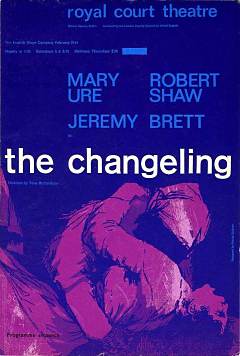 Richardson and Osborne were looking for a plain girl to play the role of the teenage daughter. Rita's brother Colin said, "Go on, Reet, have a go, you're ugly enough!" Rita contacted Osborne by way of his literary agent, whose name she found on Osborne's published play, The World Of Paul Slickey. Rita auditioned, made film tests, and won the role of Jo from among two thousand hopeful actresses. Some distributors expressed a preference for Audrey Hepburn in the role, but Tony Richardson was determined to cast an unknown. Rita says, "Audrey Hepburn was absolutely beautiful of course, but I don't think she would have been right for the part."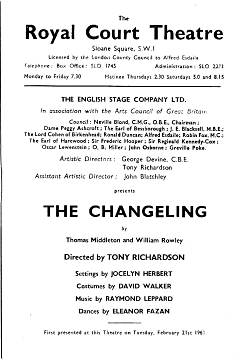 Rita says, "The Changeling was a play I did at the Royal Court Theatre, directed by Tony Richardson, as he thought it would be a good idea for us to work together before filming A Taste Of Honey. I played a mad woman, mostly dragging chains around and making appropriate mad noises. It was the first time I had worked in London, and working – albeit in a small way – with Mary Ure and Robert Shaw was very interesting. Tony Richardson was extraordinary, he was the most wonderful man."